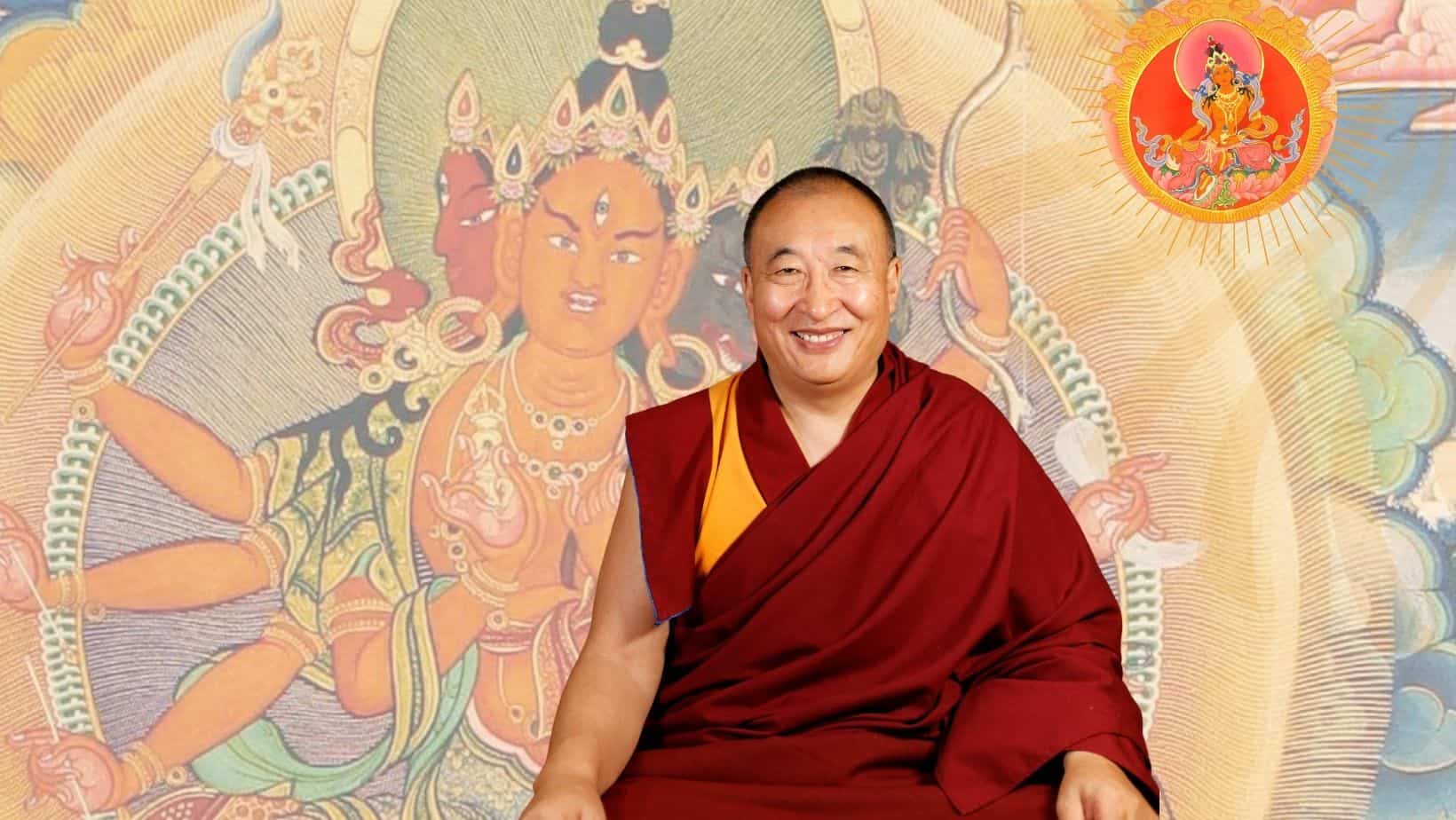 Marici Empowerment & Retreat with Khentrul Rinpoche
Marichi is the life-long personal protector from Khentrul Rinpoche. She is also considered the proteress of the Sublime Realm of Shambhala. Our center situated in Kalapa is the center of Shambhala. Rinpoche will bestow her Empowerment and transmit a Marichi sadhana written by him which is based on his own visionary experience with this buddhist goddess. 
THE BUDDHIST PROTECTRESS MARICHI
In some lineages of the Vajrayana Buddhism, Marichi is considered to be one manifestation of Tara, appearing for example as the 21st Tara. There are other forms from her found also in other spiritual systems. She is the colour of the sunset, a wondrous, glowing orange. She comes with the sun and, as the sun, her blessings pervade everywhere.
This sadhana is also extremely helpful for those working with the Drolmi Kazug Puja. Beyond the empowerment and oral transmission of the Marichi Sadhana, Rinpoche will also give an introductory teaching on her and will join us in a Q&A session during the retreat. The practice sessions on the weekend will be transmitted online as well. 
RINPOCHE'S PERSONAL CONNECTION WITH MARICHI
Marichi (also known as Marīcī and Özer Chenma) came to Rinpoche's life when he was a young boy herding yak cattles in Tibet. Without fences, it was quite difficult to take care of them. Some yaks hide themselves from the boy Rinpoche under rocks, and so used to spend the night in danger of being attacked by wolves. To help protect them, his family shared with him the Marichi mantra and the faith in her when he was still very young.

"I do not know exactly why, perhaps because of having no doubt when doing this or because of a special connection, when I recited her mantra and did the ritual according to the traditional manner of protecting the yaks, I have 100% guarantee that the yaks would be safe during the night. I never had problems with yaks being killed by the wolves since then, really never. So I kept that in mind and I recited innumerable mantras, many times, when I took care of them. So, afterwards, anytime when we had an obstacle I always relied on her."
"So this is why Tibetan says that praying for Marichi helps. But, of course, it does not help everyone individually, as it depends for example on the individual connection and on the level of faith. You must have no doubt at all. I have indestructible faith in Marichi since my childhood, so this helped me to develop many connections with her during my life."
WHO IS THIS FOR or HOW TO PREPARE MYSELF?
There are no prerequisites at all. It is suitable for all levels of practitioners. Previous Buddhist study and practice are helpful but not mandatory. If you want to prepare yourself,  you can do the online course for the "21 Taras Practice Retreat" available at our learning center.


Tenative Schedule
27th Friday afternoon: arrival after 2pm. Relax and enjoy the mountain woods.

27th Friday –
Public Teaching
:

Marici and the Realm of Shambhala

28th Saturday :
Marichi EMPOWERMENT and ORAL TRANSMISSION of the Marichi Sadhana
28th-30th:
Marichi Practice Retreat, Q&A with Rinpoche

June 1
Wednesday morning, breakfast and departure

Translations Offered for the Teaching
English with translations available. 
If you are an in-person participant and need live translation, you must provide your own internet connection and bring earphones to listen to the teachings through your mobile or tablet in the gompa. Space for notebooks may not be possible. Unfortunately we can not share our WLAN or WIFI for participants because the translators need it as well.
A note for those attending in-person: if you are a translator who is joining the retreat also in-person, please let us know in advance so that we can reserve a space for you to translate during the teachings. You will need your own data plan with streaming data. Space is limited to circa 4 translators in total. You will not be able to be in the Gompa during the event. We recommend instead that if there are multiple translators for your language, a different person is able to come in person for various retreats.
FAQ
ONLINE TRANSMISSION and RECORDINGS
Except for the last practice sessions on Monday, which will not be transmitted online, all the teachings and the practice retreat on the weekend will be recorded and can be accessed afterwards in our online learning center. We encourage you to take part in as many live sessions as possible, but, if your time zone is not compatible, you can listen to them later. As usual, empowerment and oral transmission must be attended live and are not recorded.
Food and Accomodation Options
Food 
The food is provided 3x a day and is vegetarian. If you have any medical food allergies that we should be aware of please email office@suchandra.org to let us know.
On-Site Accomodations

The Residential Retreat fee includes three vegetarian meals and accommodation at the wonderful Kalachakra Kalapa Center on the Austrian mountains. 
Please inform us in advance about allergies and food intolerances and other important health and mental conditions. 
We are able to offer different male and female dormitory spaces from 3 to 8 participants in each room. It is also possible to camp in the region around the stupa inside the Retreat Center. As we wish to host as many students as possible and offer everyone the opportunity to meet Rinpoche in-person, for this retreat it is not possible to reserve an individual room inside the retreat center.
For those who wish to enjoy the wooded nature, to camp on site, please bring your own tent. You can reserve a camping spot in the check out. All accomodations include 3 meals a day. Enjoy the on-site yoga room with evening classes offered as scheduled throughout the retreat.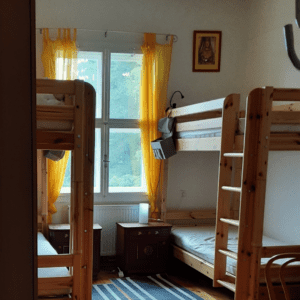 Please note: Parking in the area of Kalapa is very limited. If you are staying with us for the whole retreat, we encourage you to drop off then find a space to park at a distance to help day travellers reach the site.
Off-Site Accomodations
If you need an individual room for you, there are many options of sleeping places in the near of the retreat center, in the Garanas region, as well as in the town Bad Schwanberg which offer different levels of accomodation which you can search for and book it yourself. We can help you find a place in case you do not speak German (write to office@suchandra.org)
For those attending in-person, we will also offer optional supplementary practice in the evening guided by Rinpoches' students who are qualified yoga teachers.
Covid Requirements
The accommodation will be under the Covid-19 regulations of the Austrian Government. We will inform here all the details about the regulations closer to the event. The Suchandra Institute reserves the right to change the dates and to cancel the in-person participation due to Covid issues. You can find the current Austrian government regulations here.

Getting to Kalapa
Kalachakra Kalapa Center
Garanas 41
8541 Bad Schwanberg
Südweststeiermark
Nearest airport is in Graz, Austria.
How to get to us:
By train:
Starting point is Graz main train station (IC and EC station). From there, take the S6 or S61 S-Bahn in the direction of Wies-Eibiswald, about an hour to the Schwanberg station. timetable information
From the Schwanberg train station (bus stop 41-076-Prague Bad Schwanberg train station) to the retreat center, it is possible to take a shared taxi (for more information: Regio Mobil ) directly to the Kalachakra Kalapa Center with bus stop 41-080-Buddhist Center . The taxi must be ordered at least one hour in advance. For journeys on Sundays and public holidays, order by 5 p.m. the day before!
To order: +43 (0)50 16 17 18
Tariffs:
for one passenger: €6.00
for two passengers: €10.00 (total)
for three passengers: €15.00 (total)
for four passengers: €20.00 (total)
For multiple orders for the same time sent a taxi for the trip together
By car:
From the Graz-West motorway junction (A2/A9) on the A2 in the direction of Klagenfurt/Italy to the Lieboch exit. Continue on federal road 76 in the direction of Eibiswald. After approx. 30 km you will reach Schwanberg. At the end of the main square in Schwanberg, turn left in the direction of Garanas, after the bridge, turn right in the direction of Garanas and follow the signs "Kalachakra Kalapa Center", uphill for approx. 8 km, to the center.
Offerings to Rinpoche
DANA for KHENTRUL RINPOCHE
Beyond the empowerments, Khentrul Rinpoche has kindly agreed to give teaching sessions and to support the retreat leaders which will guide the practice sessions. If you wish to show your generosity to Rinpoche's precious teachings and to his immense efforts, you can do it in-person at the end of the retreat or, if you are attending online,
offer Dana for Rinpoche on the Dzokden website here
.